Suncoast Casino apologizes to policeman
04-07-2012
Suncoast Casino & Entertainment has offered a policeman a casino voucher. The Durban-based gambling parlor had banned Marc Wyatt after he intervened in a fight. Wyatt claimed that the woman was being
molested
by her husband. Casino management has apologized to the police agent and has canceled the casino ban.
Innocent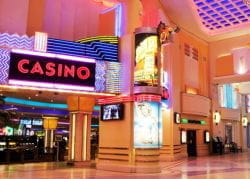 Louise Howell, marketing manager for Suncoast, stated that a comprehensive investigation has revealed Wyatt's innocence. CCTV footage showed that Wyatt tried to assist the woman before casino staff arrived. "We thank Mr. Wyatt for helping the woman and apologize for the misunderstanding," Howell stated.
Casino ban after good deed
Wyatt and his girlfriend Marilyn Kahn were leaving the gambling venue when they heard someone shout for help. Wyatt decided to help the woman as he didn't see any security official near the scene. The intervention resulted in an interrogation and subsequently in a casino ban for 'fighting inside the gambling venue'.
1,354 slots
The Suncoast Casino & Entertainment offers gambling fans a whopping 1,354 slot machines. The main floor features 804 slot games, while the smoking area has 457 slots. Then there is the Salon Prive that offers another 93 slot machines. Casino patrons love the easy-going, relaxing ambiance at the South-African gambling parlor.