Slot repairman faces charges linked to alleged theft
21-10-2013
Last month, the Hollywood Casino in Charles Town, West Virginia informed the police about a theft case. An audit had unveiled that thousands of dollars were missing from a number of slot machines. Justin J. Trauger, who worked as
slot machine technician
at the casino, has been accused of stealing the cash.
Caught on camera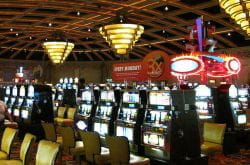 The casino's security cameras were able to record how the 21-year-old repairman stole the money. Trauger opened several lottery machines while there was nothing wrong with them. CCTV footage showed how he stole the cash boxes, which were found in the
parking lot
of the gambling venue. Security cameras also showed Trauger in the car park while carrying one of the cash boxes.
Stealing to buy drugs
Police investigators questioned the 21-year-old slot repairman four weeks ago. Trauger confirmed he had opened the lottery slot machines while there was no need to fix them. The Martinsburg resident confessed he had stolen more than $6,000 from several
slots
five times. He used the stolen cash to purchase illicit drugs. A spokesperson for the Hollywood Casino stated that
$11,698
was missing from the lottery machines.