Slot player threatened at Bethlehem gambling venue
26-11-2012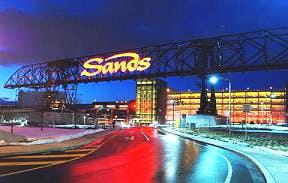 A woman was gambling at a Bethlehem-based casino when she was suddenly approached by a 62-year-old man. James Michael Compton demanded money from Nabegita Nazih Mouhrez and said he had a firearm. The 21-year-old woman from Catasauqua was playing one of the slot machines at the Sands Casino Resort Bethlehem.
Empty-handed
"
I will show you my gun if you don't give me your money
," the 62-year-old robber reportedly said. Compton used his finger to make it look like a pistol. The gambler from Catasauqua wanted to give him the small amount of money she had, but the robber wasn't interested. Compton decided to flee without taking any money. Pennsylvania State Police managed to arrest the robber from Easton who faces counts of attempted robbery. Last week a
gambler was stabbed to death
at the Red Hawk Casino in Shingle Springs, California.