Slot player fined for possession of cannabis
10-02-2013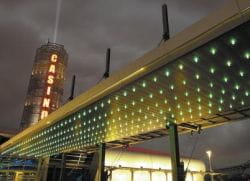 An employee at the Point Edward casino noticed how a gambler dropped a bag of cannabis. The slot player in question, the 48-year-old Chin Nguyen, has been found guilty of drug possession. Nguyen from London was playing one of the slot machines at the Point Edward casino, based in Sarnia.
Casino ban
A Sarnia court judge has ordered Nguyen to pay a $500 fine. According to court documents, the bag contained 1.6 grams of cannabis. The 48-year-old slot player has a criminal record for drug offences, told a spokesman of the Sarnia court. Nguyen is also banned from the gambling parlor during the probationary period of 12-months.
More than 450 slot machines
The Point Edward casino offers gamblers a wealth of exciting casino games. Players can choose from more than 450 slot machines, in addition to 30 gambling tables. The slots inventory features such popular titles as Megabucks and Blazing 7's. The table games include blackjack, roulette,
craps
, several poker titles, and many more.