Sioux Falls gambler arrested for cheating at casinos
02-10-2013
Sioux Falls Police have arrested a local gambler on suspicion of casino fraud. Gregory Keith Uhe reportedly attempted to wrongfully claim money at three gambling venues. The 53-year-old man told casino staff that he had inserted cash in several gambling machines, which didn't award any credits.
$0.50 in gambling winnings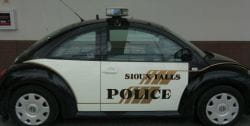 A spokesperson revealed that two casino clerks fell for the trick, awarding him some cash. "On one occasion, a staff member awarded him $5 in order to avoid a scene." At another gambling parlor, an employee gave him $20 in cash. Uhe used the money to spin the reels of a slot machine, after which he left the casino with
$20.50 in his pockets
.
Cheating gambler
One casino staff member decided to open the gambling machine in question to determine a possible defect. It turned out that the money inside the machine corresponded with the receipts. It became apparent to the casino clerk that Uhe had wrongfully claimed the money. He informed the police, after which the 53-year-old
scammer
was arrested.