Shoot-out outside cards poker room
13-06-2012
A shooting outside the Capitol Casino in Sacramento has resulted in one man being injured. Police report that the shoot-out followed a dispute outside the casino. The victim visited the cards poker room together with his father. A dispute emerged between the duo and a couple of friends concerning the payment of money.
Severe dispute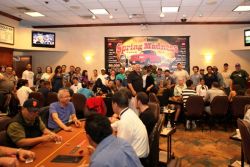 The victim and an armed man were arguing inside a car in the casino parking lot. Another man was waiting outside the car. The 22-year-old man was struck by a bullet inside the vehicle, which was the result of a severe dispute. The injured victim left the vehicle and sought help at the gambling venue.
Shooting
The
armed men
returned to the scene and shot a few times more, but nobody got hurt. All people involved had left the scene when police officers arrived. The wounded man had been taken to a nearby hospital. Police are still looking for the armed men.
Gambling and dining
Capitol Casino offers gamblers Texas Hold 'em, daily poker tournaments,
pai gow poker
, pai gow tiles, blackjack, and dragon bonus baccarat. Visitors can also enjoy a nice breakfast, soup, salads, sandwiches, appetizers, Asian specialties, desserts, beverages, and Asian entries. Gamblers also benefit from a huge number of promotions, which are packed with prizes including Caribbean cruises, home theatre packages, and cash prizes.