Puerto Rico: increasing number of illegal gambling machines
15-08-2012
Puerto Rico casinos are threatened by the increasing number of illegal slot machines. More and more Puerto Ricans prefer the odds of underground gambling machines. Most casinos in Puerto Rico are operated by hotel resorts. Two legal gambling venues will go out of business in the last quarter of this year, while five others may also be forced to close their doors.
Decreased tax revenues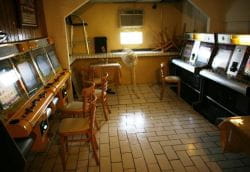 More and more slot machines can be found at Puerto Rico businesses varying from pubs to bakeries. This development has resulted in decreased tax revenues. Last fiscal year, the Government of Puerto Rico assigned $61 million of the $156 million in annual gambling revenue to its tourism agency. Additionally, the University of Puerto Rico (UPR) received $71 million.
Importance of legal casinos
The Government of Puerto Rico is losing approximately $200 million annually due to the underground gambling scene. However, it has not taken measures to curb the growing number of illegal slots. "Casinos are one of the main drivers of the tourism industry of Puerto Rico. It appears that the government doesn't realize the importance of the legal gambling industry," according to the president of the Hotel and Tourism Association.
Stark contrast
Puerto Rico's casinos offer visitors an unique gambling experience. How about some Latin music, great food and exciting slot machines. Puerto Rico gambling venues are open until small hours and gambling fans can enjoy an impressive variety of casino games. There are more than 20 casino resorts and around 7,000 legal gambling machine. The huge number of illegal gambling machines, approximately 25,000, stands in stark contrast to this. Please check our special
slots section
if you like to learn more about slot machines.