Prison terms for two casino robbers from Camden
10-06-2013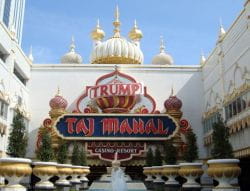 A criminal from Camden, New Jersey has been sentenced to 47 years in prison for a cruel robbery at a casino parking garage. 21-year-old Phillip L. Byrd and his two partners in crime kidnapped two gamblers from Monmouth County, after which they were shot.
Victim dies from shooting
The criminal trio selected their victims at the parking lot of the Trump Taj Mahal Casino Resort. 28-year-old Sunil Rattu and 24-year-old Radha Ghetia were kidnapped and robbed. Subsequently, they were taken to a backstreet where they were shot. Ghetia had
luck on his side
, while Rattu didn't survive the gun shots.
Robbery at casino parking lot
Additionally, another Camden resident has been sentenced to seven years in jail. 27-year-old Tony Burnham has been found guilty of robbing Bally's Park Place Casino. Burnham decided to pay a visit to the
Atlantic City-based gambling parlor
in August 2009. The 27-year-old and his accomplice Dashand Chase attacked a gambler at the parking lot of the casino.