Prison sentence after using counterfeit casino chips
04-01-2013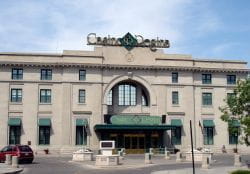 A Canadian punter pleaded guilty to possession of counterfeit casino tokens. In December last year, Canadian authorities arrested a number of gamblers after several fake gambling chips were discovered at Casino Regina. Eric Michael Robert Oksasikewiyin from Saskatoon has been sentenced to 21 days in jail.
Gambling fraud
Casino staff first discovered the fake casino chips on December 21, after which one gambler was arrested. The next day, another scammer was detained who informed police about other gamblers who also possessed counterfeit gambling tokens. One of them was the 22-year-old Oksasikewiyin, who was detained that same day for possession of two fake casino chips.
$2 chips transformed into $500 chips
According to court records, the fraudsters had transformed the $2 chips into $500 chips. However, casino cashiers immediately noticed the fake tokens because of the different weight and color. They alerted casino security who subsequently informed Regina Police about the fraud. Check our
casino news section
for more exciting casino incidents.