Police arrests man who attacked casino staff
28-03-2011
A man has been detained after he allegedly
robbed
two Delaware Park Casino workers in a car park. Scott Smagala Jr. from Wilmington, Delaware, faces charges of theft. Smagala is being held on a €28.338 bail bond. A police officer stated that a detective analyzing CCTV tapes of the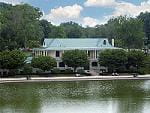 parking lot attack identified Smagala. He was detained on March 23.
Casino staff
In the parking lot attack of the Delaware Park Casino, two staff members were on their way to their car. Suddenly, they were attacked by a robber who carried a pointed weapon. One of the staff members handed offer his wallet while the other employee attempted to flee. The robber persecuted the escaping casino employee, took her handbag and ran away. Both victims were unharmed.
Delaware Park Casino
Delaware City offers three casinos. Delaware Park Casino comprises a horse racing track and the casino features more than 2,500
slot machines
. The casino is open 24/7 and features unique table games.