Playing baccarat despite menstrual bleeding
24-12-2012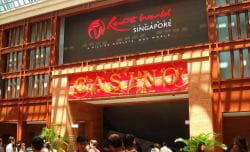 You may have heard of the expression 'party until you drop', but there's also something like 'gamble until you drop'. A 40-year-old punter was playing baccarat at the Resorts World Sentosa casino for more than 12 hours and she refused to clean herself despite menstrual bleeding. Her menses not only stained her clothes, but also the seat and the casino floor.
Devastating effects
The woman suffers from a gambling addiction and receives counseling for gambling. Her ex-husband decided to take her to the Problem Gambling Recovery Centre. She lost her job, husband, and house due to her gambling problem. "The woman was obsessed by predicting the result of every baccarat round. She didn't even want to clean herself after she had started leaking," according to a spokesperson for the Resorts World Sentosa.
Baccarat fan
Eventually, casino staff took her to the toilet and they informed her ex-husband about the incident. He provided the woman fresh clothes. Her gambling addiction had resulted to debts worth a whopping $80,000, and they were forced to sell their apartment. However, the female punter continued to gamble at the casino. She even skipped sleeping to play baccarat. Check our
baccarat section
for a guide to the rules of this popular casino game.