Open air casino used as a weapon against competition
06-09-2012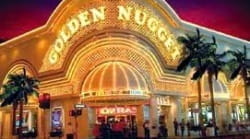 The first open-air casino has been opened in Atlantic City. Here, casino players can play blackjack outside.
Atlantic City's famous casinos
have been forced to think outside the box in order to distinguish themselves from new competitors in neighbouring states, which have emerged following changes to their gambling laws.
Blackjack and live music
The first casino to offer an open-air casino was the Golden Nugget in New Jersey. Visitors can play blackjack while enjoying live music and ocean views.
Lots of competition
Casinos in Atlantic City have been experiencing stiff competition from neighbouring states ever since new laws granted them the right to build casinos and offer casino games. Golden Nugget is hoping that being original and different to others will give it an advantage.
Profit decrease
The fact that Atlantic City was the only state on the East Coast made them sort of a single player on the market. But that has changed over the last few years. Earnings fell from
$5.2 billion to $3.3 Billion in barely five years
. So far this year they've already dropped by a further 7%.