Las Vegas Police searching for suspected casino thief
27-10-2012
A Palmdale (California) resident is on the run after stealing $1.6 million in gambling chips. According to the Las Vegas Police, the man stole the casino chips from a Las Vegas-based gambling resort. The thief took the casino tokens from a closed section inside the Venetian Resort Hotel Casino on October 10.
High-value chips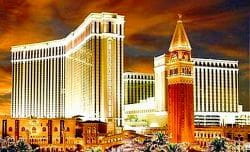 "The man unlocked the chip box and stole a huge number of high-value chips," a police spokesperson commented. It remains unclear if the thief was armed and if he was seen by casino staff. It will be difficult for the thief to redeem the stolen gambling chips as they are tracked. Additionally, the Venetian Resort Hotel Casino is the only place where he can redeem them.
Frustrated thief
One of his neighbors explained that the unemployed man had been trying to find a job for quite a while now. For that reason, he had become frustrated. "We know him as a well-mannered neighbor, who has a wife and a kid," one of his neighbors commented.
$1.5 million in casino chips
In 2010, Anthony Carleo managed to steal $1.5 million in casino chips from the Bellagio in Las Vegas. Carleo has been sentenced to a jail term of 11 years. He was detained when he tried to cash in a gambling chip worth $25,000. Last month, BestOnlineCasino.com reported about a
man who stole $180,000 in gambling chips
.