Horseshoe Casino awards $1M prize to wrong player
13-08-2013
Kevin Lewis was excited to cash
$1 million
thanks to the $3 Million Summer Giveaway campaign at Cincinnati's Horseshoe Casino. However, it turned out that the casino gave the prize to the wrong competitor. Casino management decided to award the seven-digit cash prize to both participants named Kevin Lewis.
Wrong winner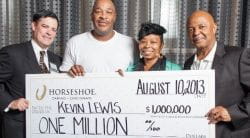 Horseshoe Casino officials first gave the staggering prize to Cincinnati-based Kevin Lewis. The lucky casino patron claimed his windfall, talked to reporters about his win and was congratulated by other competitors.
Rightful owner of $1 million cash prize
Shortly after awarding the $1 million cash prize, it dawned on casino officials that they made a mistake. The last control demonstrated that another competitor named Kevin Lewis was the rightful owner of the prize. A spokesperson revealed that the
true winner
was also a Cincinnati native.
Acceptance
"We made a mistake and took responsibility.
Horseshoe Casino
is highly committed to providing a fair and reliable gambling environment. For that reason, we decided to give the $1 million windfall to both Cincinnati residents," a spokesperson for the casino commented.