High-speed chase after Montego Bay Casino heist
14-02-2014
The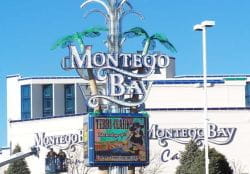 in West Wendover, Nevada has fallen victim to an armed robbery. Salt Lake County authorities believe that two men were involved in the robbery that happened at about 11:20 PM. Police booked one of the suspects, while the other one is still on the run after a
high-speed pursuit
.
High-speed chase
"One of our officers spotted the two suspects, but they ignored the stop sign. Our trooper was forced to end the high-speed chase as public safety was at stake. One of the fugitives abandoned the car and
fled on foot
" a spokesperson for the Salt Lake County Sheriff department stated.
One suspect still on the run
The fleeing suspect was untraceable despite an intensive search with dogs, but police believe they know the identity of the offender. In the light of their investigation, the spokesperson refused to unveil the identity of the suspect. The other
casino robber
, 38-year-old Elbert Woodson, was captured after the chase had ended.