Gun-wielding robber pays visit to Genting Casino
18-12-2013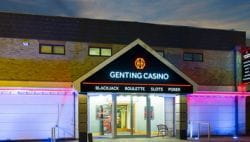 Genting Casino in Luton has fallen victim to an armed robbery, which occurred around 5.10 pm. An armed man entered the gambling venue through the back door, Luton Police said in a news release. He
used a firearm
to give his demands more force and he left the casino with an unknown amount of money.
Motorist styled
The robber was dressed like a motorist, wearing motorcycle gloves, a helmet, and a dark-colored jacket. Additionally, he had a
Nike
sports bag with him. Luton Police have issued an appeal for members of the public to come forward with information which could assist their investigation.
Appeal for information
"We hope that other motorcyclists noticed the robber who made his getaway on a motorbike. However, the roads near the casino were packed with cars during the
armed robbery
. We appeal for information from the public about the casino robbery. Any kind of information might be useful in the investigation," a spokesperson for the Luton Police stated.