Grandmother prefers casino gambling above grandson
09-03-2011
The New York police has detained a woman who preferred to gamble at a casino instead of taking care of her grandson. Rose Thigpen-Grant (53) left her grandson in the car and started gambling at the Empire City Casino. She told her grandson that she needed to pick up something.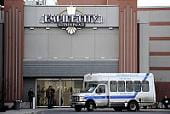 Casino gambling
Approximately 30 minutes later bystanders saw the child in the freezing cold car screaming for help. The temperature inside the parked car was approximately -20 °C. Thigpen-Grant returned to the car about 60 minutes after leaving the boy in the car. She told her grandson that it didn't take long.
Grandson
Thigpen-Grant ran away when the police wanted to arrest her. Police officers managed to arrest her although she resisted heavily. The police informed Child Protective Services and her grandson was left at a family friend. Thigpen-Grant faces was
imprisoned
and she faces several charges.