Grand Isle resident used forged bills at gambling venues
13-09-2013
A Grand Isle resident has been booked for using forged money at two casinos based in Raceland (Lafourche Parish, Louisiana). Brennan Matherne, spokesman for the Lafourche Sheriff's Office, revealed that Louis Santiny Jr. was caught on two occasions.
45-year-old scammer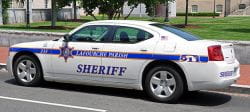 Employees at both gambling venues discovered the counterfeit cash, which they returned to the Grand Isle resident. Subsequently, deputies detained the 45-year-old scammer. It is unknown if Santiny forged the money himself or if he got the fake bills from someone else.
Similar case
The Lafourche Sheriff's Office received a report about a man who had tried to use fake bills at two casinos. Santiny attempted to avoid arrest, but drove his car into a ditch. Deputies arrested the man and they found
fake money
in his vehicle. Santiny had used two counterfeit bills at two gambling venues.