Gambling birthday ends in shooting
03-09-2013
A birthday party deserves a happy ending instead of a shocking gunfire. A Southend woman had just celebrated her partner's birthday at the Rendezvous Casino when they were leaving home. "It was a fun gambling session despite having lost a modest amount of money," the 42-year-old teacher commented.
Secret shooter
"I noticed a broken window when we arrived at the parking lot, while there came smoke out of the vehicle. We decided to inform casino security, but before we could step away from the vehicle we heard a shot. It was unclear where the
gun shot
came from, but it seemed like someone from behind a wall fired the shot," the woman said.
Car burned out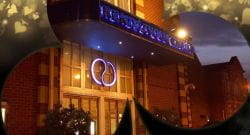 When police officers arrived at the casino parking lot, the thugs threw a glass object at one of them. The car interior had been destroyed completely. "While we were celebrating my husband's birthday, the criminals burned down our car. The Ford Focus cost us an arm and a leg, which makes it even more painful," the Southend woman said.
Justice must be done
"It's the first time something horrible like this happened at the Rendezvous Casino. This violent incident has forced us to reinforce security measures. We hope that witnesses step forward so the police can arrest the perpetrators," according to Johanna Johnston, speaking on behalf of the Rendezvous Casino.