Gambling addicted father and son turned to fraud
29-08-2013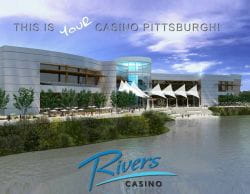 43-year-old Joseph Kocutt Sr. and 25-year-old Joseph Kocutt Jr. love to gamble at Pittsburgh's Rivers Casino. However, things got out of hand. The father and son from Penn Hills are now in trouble as they are accused of stealing $123,000 from a company to feed their out-of-control gambling habit.
Scam
Court documents reveal that Joseph Kocutt Sr. asked a customer to sell TV converter boxes worth $5,000. The man accepted the offer and Kocutt Sr. collected the cash. However, the 43-year-old Penn Hills
failed to deliver the equipment
. The incident took place one month ago, and the victim has not been able to recollect the money.
Gambling addicted father and son
Michael DeRiso, who represents the duo, declared he had not been able to analyze the allegations, nor evidence against the Penn Hills residents. Joseph Kocutt Jr. issued checks to his old man, who used them to enjoy multiple gambling sprees. They both visited Pittsburgh's Rivers Casino on a regular basis due to their
gambling addiction
.