Gambler stabs bouncer at Grand Portage Lodge & Casino
21-05-2013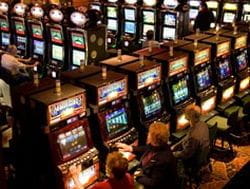 A gambler show stabbed a security guard at a Grand Portage-based gambling parlor has been accused of murder. The 21-year-old Steven Warren Robert Anishnabie admitted he had been thinking about the attack for several months.
Lack of gratitude
Bouncer Rollin Edward Baird was not thankful of the gamblers who visit the casino, according to Anishnabie. The Grand Portage resident wanted to hurt Baird and stabbed him in the neck. Anishnabie was acting strange and he had been drinking before he stabbed the
casino bouncer
.
Planned stabbing
Baird collapsed after he was stabbed, but initially he wasn't aware of what had happened. He was taken to a nearby hospital after he noticed the bleeding. The accused admitted that he had brought the knife to the gambling parlor in order to stab the bouncer. At this point it's unknown if the incident was caught on CCTV video. Anishnabie has to appear in court on May 28.