Gambler charged with counts of fraud
30-09-2012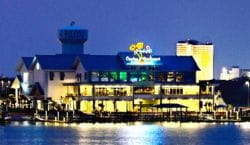 A D'Iberville resident allegedly used counterfeit casino chips at Jimmy Buffett's Margaritaville Casino & Restaurant. The 41-year-old punter now faces charges of fraud after she tried to use fake casino tokens. Police officers detained Jolanda Michelle Hart last weekend.
Counterfeit casino tokens
Hart tried to cash in 6 fake casino tokens, each worth $100, at the Biloxi-based casino. The cashier immediately identified the counterfeit tokens and approached the manager of the gambling venue. He informed the Mississippi Gaming Commission. "We are investigating the case and we would like to know how she counterfeited the casino chips," a spokesperson of the Mississippi Gaming Commission said.
12 years in jail
Casino staff detained the 41-year-old woman, after which the Mississippi Gaming Commission questioned the fraudster. Police officers took Hart to the Harrison County prison. She could be sentenced for up to 12 years in jail, in addition to facing fines of up to $60,000.