Failed robbery at Rail City Casino
10-11-2012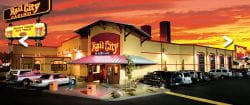 A Sparks-based gambling parlor has reported a robbery. According to Sparks Police, the robber entered Rail City Casino at approximately 5:30 a.m. The Latino man threatened a patron with a firearm, but one of the casino workers interfered. The incident took place inside a rest room of the casino.
Latino robber
The robber panicked and fled the scene. According to Sparks Police, the bearded suspect is believed to be aged between 20 - 23 and has Latin American roots. The skinny man was wearing a dark-colored jacket and a light-colored shirt. Please contact Sparks Police if you have any information about the incident.
Wealth of exciting gambling news
Casinos are popular among robbers and our news section features many reports on casino robberies. A few weeks ago, we reported about a man who had stolen casino chips from a Las Vegas-based gambling venue. Or how about an
unarmed man who robbed a casino in Nitro
, West Virginia. BestOnlineCasino.com brings you a wealth of exciting gambling-related news.