Evil scam at South African casinos
27-05-2013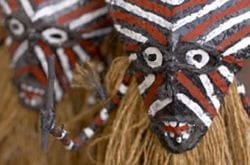 Multiple gamblers have been defrauded by a 34-year-old woman at several South African gambling parlors. The scammer claimed that she could bring good luck by spraying a dwarf-like water sprite over their valuable items.
Charges of fraud
Nancy Shanelle Naidoo stole gamblers' possessions, including expensive jewelry and perfume. The water sprite allegedly would bring good luck. The 34-year-old woman now faces 53 charges of fraud. Naidoo offered her 'services' at several gambling parlors based in the South African province of KwaZulu-Natal.
Evil-doing water sprite
The 34-year-old scammer generated approximately
$210,000 in cash
courtesy of the
fraudulent activities
. Naidoo also reportedly drugged several gamblers before stealing their valuable items. Tokoloshe is a water sprite used by mean people to provide victims with misery, according to Zulu mythology.