Drug dealers use slot machines for money laundering
27-09-2012
Pennsylvania State Police have arrested two men for laundering 'dirty' money at a gambling venue. The 27-year-old John Goodenough and the 24-year-old Brett Battle tried to launder drug money at Parx Casino. The men inserted drug money into one-armed bandits and directly cashed out in order to receive coupons. Subsequently, they cashed in those coupons for 'clean' money.
Money laundering at casino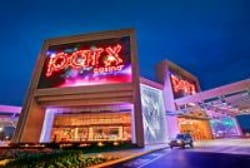 CCTV footage revealed the men laundering the drug cash at the casino. Goodenough was in charge of redeeming the coupons, while Battle inserted the 'dirty' money into the gambling machines. However, Battle started spinning the reels of slot machines when he realized that police officers were observing him.
More than $23,000 in drug money
Police officers took both suspects to the police department at the gambling parlor. Battle was carrying $1,600 in cash, in addition to coupons worth more than $2,300. Goodenough was carrying $1,000 in cash, and they both declared that it wasn't their money. Police officers also searched their car and confiscated marijuana and $18,400 in cash. Battle confessed to being a drug dealer, but declared that the cash belonged to somebody else.
Celebrity-themed slots
One-armed bandits are extremely popular among gamblers. There are many slot machines themed around celebrities. Dolly Parton gets her own slot machine, while the
new Kiss slot game
will be launched next week. There's also an online slot machine that features celebrities, including Elvis, Madonna, Brad Pitt, Johnny Depp, Paris Hilton, John Travolta, Kate Moss, Matt Damon, George Clooney, Mariah Carey and Liz Hurley.