Dedham resident stole 4 Rolexes from Foxwoods Resort Casino
07-01-2013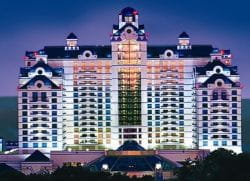 The thief who stole 4 Rolex watches from a store located inside the Foxwoods Resort Casino has been arrested. Thomas W. Nee, a 41-year-old man from Dedham, Massachusetts has been charged with first-degree larceny. The 4 Rolexes represent a value of $73,800.
Tourist bus
According to a police spokesperson, the 41-year-old thief managed to gain access to the shop inside the gambling resort. Nee took the 4 Rolexes from the display case, after which he boarded a tourist bus. Massachusetts police arrested the thief after casino security had provided a description of the suspect. Nee has been bailed for $75,000 and will appear in court later today.
6,300 slot machines
Foxwoods Resort Casino offers luxurious accommodations, 38 restaurants, exciting entertainment and a wide range of shops. Then of course there's the casino that features slots, table games, bingo,
keno
, poker and race book. Foxwoods Resort Casino offers gamblers a whopping 6,300 slot machines, while there are 350 table games.