Deadly shooting at Kenyan casino
28-03-2013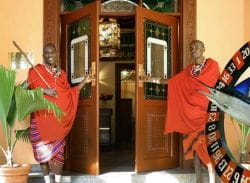 An armed gang has attacked a gambling parlor in Kenya, which led to the
death of six gang members and one police officer
. The shooting took place at the ocean front Casino Malindi. According to Kenyan authorities, the attackers were members of the Mombasa Republic Council (MRC).
Access denied
"Approximately 100 members of a coastal separatist group attacked the gambling resort. There were only four police officers at the Malindi-based casino when the gang members arrived. They started shooting after they were refused admittance. Four attackers haven been detained, while the others allegedly have fled to the nearby woods," a police spokesperson revealed.
Ocean front casino
Malindi is a popular tourist destination, offering visitors a wealth of luxurious resorts. Tourism is a major source of income for the east African country. Especially Italian tourists love to visit the city of Malindi, which is located on the Indian Ocean coast. Casino Malindi offers visitors an unique gambling destination, situated near several beautiful beaches. The wide range of casino games features roulette,
blackjack
, Indian Ocean Stud Poker,
Texas Hold'em
,
baccarat
, slot machines, and many more.