Celebrities with a gambling problem: Gerald Broflovski
13-09-2014
'Red Man's Greed' is the South Park episode that reveals Gerald Broflovski's gambling problem. Eric Cartman, Stan Marsh, Kyle Broflovski, Kenny McCormick, and their parents go to a Native American gambling parlor. Gerald Broflovski
gambles away his house
, while the Native Americans buy the town of South Park.
Ravaged by greed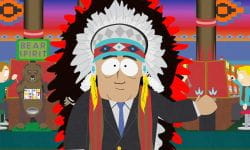 All residents have to relocate as the Native Americans intend to build a superhighway that runs through South Park. The boys come up with a plan that involves their parents staking all their money in order to win back their beloved town. Lady luck is on their side and they win big time at an
American roulette
table. Not surprisingly, the winning gamblers get ravaged by greed and they lose every penny.
Unity makes strength
The four boys manage to mobilize the townspeople when construction workers enter South Park. Together they block the bulldozers while singing '
love is a battlefield
'. The Native Americans are forced to find another way to demolish the town. They decide to treat all residents to blankets that are infected with SARS. Besides Stan, all townspeople get infected.
Curious remedy
However, the casino chief's son also gets infected. Stan finds a rather curious remedy for SARS, including a mixture of DayQuil, chicken noodle soup and
Sprite
. The casino owner intends to buy the recipe in exchange for $5 in gambling credits. His wife finds out about the demolition plan and orders him to give the people their town back. It remains unclear if Gerald Broflovski has overcome his gambling addiction, but one thing's for sure: the South Park online video slot has become a huge hit.