Celebrities with a gambling problem: Charles Barkley
14-12-2013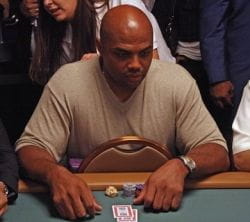 In May 2006, Charles Barkley came clean when he confessed he had a gambling problem. Sir Charles confirmed he had lost
more than $10 million
gambling throughout the years. During his successful basketball career he earned millions and millions of dollars, which enables him to finance his out-of-control gambling habit. However, Barkley feels he gambles too much.
Time to cut down on gambling
"I love to play
table games
at casinos, but I don't wager money on basketball games. At the end of the day, it's my money and I decide what to do with it. I'm not planning to quite gambling as it's one of my favorite hobbies. However, I do have to spend less time and money at casinos," Barkley said in an interview.
Happy position
When a reporter asked him if he considered his gambling habit a problem, he told: "Gambling isn't a severe problem compared to alcohol and drugs issues. The only thing that bothers me is that I spend too much money at casinos. I consider gambling as a bad habit, but I'm in the happy position that
I can afford it
. Everybody knows you lose more money than you win at casinos, which is something I have to keep in mind," the former NBA star added.