Casino supervisor commits fraud
08-10-2012
Pennsylvania state police have announced that a casino employee 'helped' a gambler to increase his number of compensation points. Edward E. Weidner III allegedly made various counterfeit transactions into the venue's computer system. The fraudulent activities took place in the period September 30 – October 5.
Casino fraud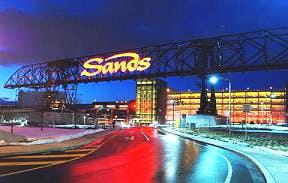 The 37-year-old Phillipsburg resident entered the casino's computer system to manipulate a punter's compensation program, according to police reports. Thanks to Weidner's fraud, the gambler falsely played more often at the casino and wagered higher stakes. That resulted in significantly more compensation credits.
Scamming casino supervisor
The casino patron cashed the compensation points in for Visa rewards cards worth $2,000 Additionally, he redeemed the credits for a restaurant voucher worth $45. Weidner has been accused of fraud and illegal use of the casino's computer system. The 37-year-old supervisor has been indicted yesterday, and his bail has been determined at $75,000.
Over 3,000 slots
Sands Casino Resort Bethlehem offers punters an impressive gambling repertoire. Gamblers can choose from an extensive poker room, more than 3,000 slot machines, and table games. There are a whopping 30 poker tables, while the variety of table games includes blackjack, roulette, craps, and many more.