Casino scammer ordered to pay $31,000 in restitution
15-01-2013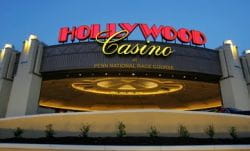 Rebecca Hill has been found guilty of using a counterfeit credit card at a Charles Town-based casino. The 29-year-old New York resident has been ordered to pay $31,000 in restitution to the Hollywood Casino. Hill used the forged credit card to withdraw money at the Hollywood Casino at Charles Town Races.
Prison sentence up to 10 years
According to court records, the 29-year-old woman committed the fraud back in 2010. After pleading guilty, Hill now faces a maximum prison sentence of 10 years. She can also be fined up to $250,000. It's unclear at this point when the judge will impose the sentence. This case proves again that crime doesn't pay.
3,500 slot machines
Hollywood Casino at Charles Town Races treats visitors to an impressive variety of casino games. Gambling fans can choose from blackjack, craps, baccarat, roulette, and more. There are also 50 poker tables, in addition to 3,500 slot machines, including multi-line, video poker, progressive slots, and keno. Check BestOnlineCasino.com for more
information about keno
and many other popular casino games.