Casino robbers turn themselves in
26-06-2012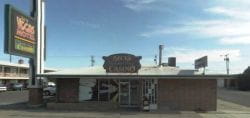 The father of a woman who robbed a casino forced her to turn herself in. Kala Jan Bailey (20), and David Emmanuel Lucas (24) robbed a gambling parlor based in Billings, Montana. Bailey's father had reviewed a police video of the incident, after which he threatened his daughter to call the police.
Casino robbery
Kala Jan Bailey and David Emmanuel Lucas were playing at the gambling venue, after which the first one left the
casino
, according to police reports. Subsequently, Lucas walked up to the clerk to cash out. He then told the attendant to give him all the money when she opened the cash register. It remains unclear if he used a gun to threaten the clerk. They fled in a green vehicle.
Listen to your daddy
Police published a photo of the vehicle and a video of the incident on the website of a local newspaper. Acquaintances of Bailey's father recognized the duo and informed him about the video. He threatened his daughter and her boyfriend to inform the police if they didn't turn themselves in.