Casino patrons to be reimbursed for losses
12-06-2012
A court ruled that a Seoul-based casino has to refund approximately 50 percent of the money lost by two compulsive gamblers. The Korean punters suffered losses of about $2.1 million at a Seoul-based casino, which is only open to foreigners.
Identity cards for foreign citizens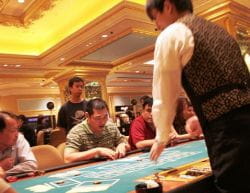 The Seoul Central District Court determined that the gambling venue was partly guilty for enabling the duo to gamble. Both Korean gamblers filed a complaint against the casino for offering them the chance to wager by providing them identity cards for foreign citizens.
Partly responsible
"The gambling establishment was partly responsible for enabling the duo to wager at a foreigners-only
casino
, although they knew about their gambling problems. However, the gamblers were also responsible for accessing the casino and wagering a huge amount of money," read a statement from the Seoul Central District Court.
Video poker allowed
The Asian country offers gamblers 17 casinos, in addition to horse tracks and lotteries. Only one of those casinos is open to Korean citizens who are allowed to
poker
online. Online gambling sites like Korea3DPoker focus on the Korean online gambling market. However, South Korean governmental institutions don't issue online gambling licenses.