Casino patron plans legal action against Emperors Palace
26-07-2012
Abednigo Lamola won
$16,007
at the Emperors Palace after which he was offered a free suite at the hotel. He stored the money in the safe, but a woman managed to steal his winnings. Lamola now plans to take legal action against the South-African gambling resort.
Unknown woman
The Pretoria resident had cashed $16,007 after getting lucky at the roulette tables. He was offered a free suite and at approximately 7 am he went to his room. An unknown woman helped him to find his suite. "I didn't even ask if she worked at the hotel. After opening the room, she started talking but I was too busy storing the cash in the safe," the gambler recalled.
Shocked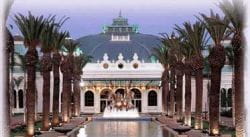 After storing the money, Lamola went to his car to pick up his cell phone. "After getting my phone, I asked the reception for toothpaste and a toothbrush. The receptionist told me that a woman in my suite had asked to open the safe. I was shocked as I didn't even know that lady," Lamola stated.
Legal action
The tables manager revealed that he had specifically told casino employees not to open the safe. He had noticed that the lucky gambler was alone. Subsequently, they informed security staff about the woman, but she had already left the casino resort. Lamola added that the police was examining the case and that he considers legal action against the Emperors Palace.
Extensive news section
This case proves the importance of being cautious after a big win at a casino. Winning gamblers are in the spotlights, which can be dangerous. BestOnlineCasino.com brings you news reports on all major casino incidents. But
our news section
also features reports on jackpots, online gambling, poker, and sports betting.