Cambodian gambler murderer detained in Thailand
03-05-2013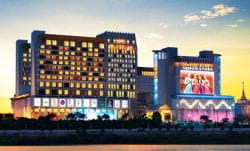 A Cambodian fugitive has been detained in Thailand for murdering and robbing a casino patron. The incident took place at a gambling venue based in Cambodia. A police spokesperson revealed that the Cambodian man had travelled to Thailand in April. Local police arrested Sok Na in Eastern Thailand.
$18,000 in gambling winnings
The 28-year-old fugitive and four other men were allegedly involved in killing the Japanese casino gambler. It concerns the 44-year-old Kitakura Kosei who was gambling at a Phnom Penh-based casino. Kosei had won almost
$18,000 in cash
. The four men were also involved in two other
robbery incidents
. The Cambodian fugitive admitted he had cooperated with the other three suspects, of whom two have been booked in their home country. One of the four suspects is still on the run.