Businessman stole other player's gambling money
17-12-2012
Muhammad Mustaqim Mohd Shaffir was spinning the reels of a slot machine inside the Marina Bay Sands casino on August 1 this year. He carried a bag that contained $19,000 in cash, which he had placed on a chair near the slot machine. Mohamad Salleh Din couldn't resist the temptation and decided to steal the bag.
Four month jail term
Muhammad Mustaqim Mohd Shaffir, a 28-year-old gambler from Singapore, told one of the employees at the casino about the stolen bag. The 53-year-old businessman from Malaysia has now been sentenced to a four month jail term. A few weeks ago, we reported about a
gambler who had poured soda into two gambling machines
.
Gambling paradise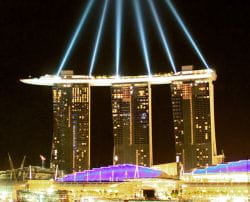 Marina Bay Sands is an impressive gambling resort that offers:
more than 2,500 hotel rooms
a wealth of shops
7 restaurants
2 theatres
a museum
an ice skating rink
The Marina Bay Sands casino features 500 gambling tables and 1,600 slot machines.