Billings Police: 25 casino robberies in 2012
16-01-2013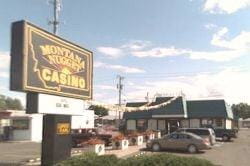 Billings-based casinos seem to be popular among robbers. Montana Nugget Casino has become the third victim this month, while 25 casino robberies took place last year. An armed robber managed to take an undisclosed amount of cash from the gambling venue located at 2150 Grand Avenue. The incident took place yesterday around 1:30 a.m., read a statement from Billings Police.
Threatened employees
The suspect allegedly used a firearm to threaten both casino workers and gamblers. He left the gambling venue after one of the threatened employees had given him an unknown amount of money. The robber is believed to be a white man aged between 20-35, according to Billings Police. The suspect, whose weight is approximately 155 pound, is about 5'9" tall.
Increasing number of armed robberies
A police spokesperson revealed that of the 25 casino robberies reported last year, only 6 cases had been solved. He added that a weapon, mostly a firearm, was used in all 25 casino robberies. For that reason, Billings Police have intensified the casino patrols, especially in the evening. However, not all casino robberies are successful. Last year, we reported on a
failed robbery at a Sparks-based casino
.