Beckham will promote casinos in Singapore and Macau
23-12-2013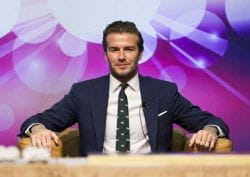 After the feel-good movie 'Bend it like Beckham' it's time to bet like Beckham as the former England international has signed an agreement with Las Vegas Sands. This new agreement will see the 'Spice Boy' promote Las Vegas Sands casinos in Macau and Singapore.
Leading gambling hub
Beckham is extremely popular across Asia, which is one of the reasons why Las Vegas Sands signed the
retired soccer player
. Macua is the world's largest gambling hub with Las Vegas Sands being the leading casino company in the former Portuguese colony.
Marketing tool
Additionally, Las Vegas Sands hopes to benefit from Beckham's popularity across China, where gambling is banned. Chinese people love soccer, which explains
Becks' iconic status
across Asia. The Beckham brand will be deployed as marketing tool at Las Vegas Sands gambling venues, read a statement from the world's largest casino company.