Armed trio robs Deuces Casino
12-10-2013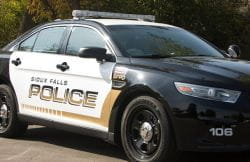 Two criminals have paid a visit to a Sioux Falls-based casino, while their partner-in-crime kept a close eye on the entrance of the gambling venue. The two armed robbers stole an undisclosed amount of cash from the casino, after threatening a cashier. One of them was carrying a
semi-automatic firearm
.
Gathering clues
Only one patron was gambling at the casino when the two robbers entered the building. They took her
smart phone
. A police spokesperson confirmed that the three criminals left the casino via the car park. The casino cashier refused to comment on the incident. Detectives are gathering footage from security cameras for clues about the
Deuces Casino robbery
.
Unusual casino robbery
"Most robberies don't involve a lookout, which makes this one a bit unusual," the spokesperson commented. They believe that having three suspects rather than one or two will actually work in their favor. "It's hard for criminals to keep a robbery a secret for friends and acquaintances. The more people involved, the bigger the chance of getting information about the incident."