Armed man robs Montana Lil's Casino
01-08-2012
Montana Lil's Casino has been robbed by an armed suspect. The robber managed to steal an unknown amount of money, after he pointed a knife at one of the casino workers. East Helena Police are searching for the black-clothed man. Montana Lil's Casino is located in Anaconda, Montana.
No injuries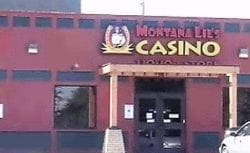 There were customers gambling when the robber entered the casino, but nobody was hurt in the incident. A police spokesperson stated that the robbery took place at approximately 5 a.m. Additionally, the blue-eyed man left the casino on foot. CCTV footage is used to identify the robber.
Covered with mud or dirt
"It appeared that the suspect's face was covered with mud or dirt," the spokesperson added. However, it remains unclear if he deliberately had covered his face. Police described the suspect as a man with black hair who was wearing black clothes. Anyone with information on the casino robber can contact East Helena Police.
Casino robberies
Montana Lil's Casino is located in Anaconda, Montana. The gambling venue is open around the clock and offers gambling fans around twenty slot machines. Last month, we reported about a
similar incident at another gambling parlor in Montana
. A suspect used a firearm to rob Bobo's Casino, based in Great Falls.