Armed man robs Deuces Casino
11-09-2013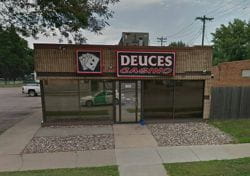 Casinos located in Sioux Falls (South Dakota) appear to be popular among criminals. Local police are investigating a robbery that happened at a Sioux Falls-based gambling parlor. The criminal in question was carrying a firearm, according to a police spokesperson.
Undisclosed amount of money
The incident took place around 10:55 in the evening when the robber entered the gambling venue. He threatened one of the casino employees and obviously demanded cash. The robber used a
firearm to reinforce his demands
. After the casino worker handed over the money, the criminal left the casino. At this point, it's not clear how much money he stole.
Skinny casino robber
Sioux Falls Police believe that the white suspect is between 5'10'' and 6'1" tall. Additionally, the skinny man has no beard or moustache. He was seen wearing a baseball cap, yellowish-brown trousers and an azure-colored blouse. Sioux Falls Police are appealing to the public for assistance in the
casino robbery case
.