Another casino doorman charged with murder
19-07-2012
Two casino doormen have been charged with murder. Paul Sanderson and Matthew Lawson are facing charges after the death of Anthony Dunning in 2011. The 40-year-old victim passed away after being assaulted by the two doormen.
Casino bouncers charged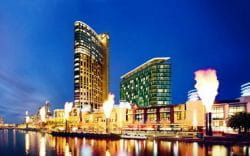 Additionally, two other casino doormen are charged over the same incident. Nicholas Vladamir Levchenko and Jacques Tony Fucile, both bouncers at the Crown Casino, are facing charges after they allegedly assaulted Dunning's friends. All defendants declined an offer to settle the case.
Avoid jail
Prosecutor Andrew Tinney suggested that the defendants considered their positions. The men could avoid going to prison if they decide to plead guilty without facing trial, according to a judge. Four of the charged men will appear in court early October.
Overreacted
A witness stated in court that the Crown Casino doormen overreacted. "We were stunned to see security staff react so aggressively, which seemed redundant," he told. The casino visitor witnessed how Dunning was assaulted by the doormen. The victim passed away in a hospital a few days after the incident. Our news section inludes
reports on all major casino incidents
.