71-old-year woman attacked at Maryland Live Casino
22-07-2013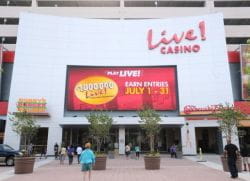 A 71-year-old female gambler has been attacked by a man who tried to steal her purse. The incident took place at the Maryland Live! Casino, which is located in Hanover. Anne Arundel County Police revealed that the
knife-wielding criminal
failed to grab her purse. The suspect fled the scene empty-handed.
Second robbery
During the investigation, Anne Arundel County Police officers discovered that the same robber had attacked another woman. That robbery took place at the parking lot of the Maryland Live! Casino. During that robbery, he managed to steal an unidentified amount of money.
Suspect's description
According to police reports, the
robber
is a white man, aged between 20 and 30. Additionally, the skinny man with glasses is approximately 5'6" – 5'10" tall. Police said he was last seen wearing a white cap, a green shirt, khaki colored shorts, and black jandals.