19-year-old accused of shooting at River Spirit Casino
07-02-2013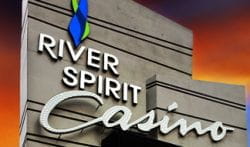 The River Spirit Casino based in Tulsa, Oklahoma has experienced a shooting. A Tulsa federal grand jury has indicted the 19-year-old Spencer De La Hunt accused of the gunfight.
Undamaged gambling machines
One of the bullets struck the front window of the casino. However, the shooting didn't damage the gambling machines inside the casino, as was the case with
a 61-year-old St. Charles resident at the Argosy Casino
.
Broken casino window
Although nobody got hurt in the gunfight, the 19-year-old shooter has been accused of jeopardizing the lives of gamblers. A police spokesperson revealed that one of bullets broke the front window of the River Spirit Casino. After the shooting, the casino was barricaded off by local police officers who examined the scene. The 19-year-old shooter is also accused of illegal possession of a firearm.